Value For Investors
Value For Active Traders
Commissions & Fees
Platform & Tools
Customer Service
Order Execution
Summary
Cash App is a new brokerage service that offers stock and options trading as well as Bitcoin, but has some shortcomings compared to other leading apps like Robinhood and WeBull.
Pros
Free debit card
Peer-to-peer cash transfers
Bitcoin and ETF trading
Decent prices on some functions
Cons
Not suitable for day trading
Analysis tools are very elementary
No FDIC insurance
Computer platform is extremely weak
Options and many other assets are missing
Trade ticket is very basic
Charting is terrible
Brief Overview
Cash App is a new brokerage service. As the name suggests, most of its features will be found on a mobile platform. Because the company is owned by Square, the well-known payment processor, it also offers several cash management tools.
Here's the rundown:
App Overview and Customization
At the heart of Cash App, is, well, the app. It's compatible with Android and Apple phones. And when I say phones, I mean phones and not tablets.
During my testing of the platform, I found it easy to use. But many trading (and banking) tools are missing. And Cash App totally forgot to add any customization features to the mobile platform.
Investing in Stocks
Although Cash App's main focus is on sending and receiving payments, the same mobile platform has investing tools. To find them, you simply need to tap on the investing/Bitcoin icon. It is the second from the right in the bottom row of choices.
Once on the investing section, you'll see a streaming row of stock icons. This is a feature of Cash App that I really like. The broker uses icons of major companies, and this makes scanning through stocks quick and easy.
Cash App has a default watchlist with several entries. Examples include:
Walmart
Disney
Nike
Coca-Cola
Marathon Petroleum 
It's easy to add your own selections to the list. Just tap on the Follow button on a security's profile. To remove an entry, just tap on the same button, which will read Unfollow.
Every asset on Cash App has a very basic chart. There are no tools of any kind, and there's only one graph style: line. Even worse, horizontal and vertical axes are not labeled. With no date and no price, it's hard to understand what you're looking at.
The top of a stock profile displays the company's name, icon, graph, and percent gain. Changing the time frame changes the percent gain.
When I tapped on ALL for the time frame for General Electric, the app displayed a 106,700% gain. The graph did not display this level of increase, however. I calculated a gain of 827% based on the graph.
One of the most irritating features on Cash App's trading platform is the lack of asset prices. The watchlist doesn't display any prices, and a profile doesn't have a price at the top. Instead, percent gain or loss is shown over a time frame.
To find a price, you have to scroll down and locate a small box with the stock's market cap. Here, you'll find the current price, too.
To place a trade, just tap on the Buy button that appears on an asset's profile. If you have no pre-existing position, there is no sell button. So apparently, there is no shorting capability with this broker.
Cash App's order form uses whole-dollar investing only. There is no quantity field for share amount. The minimum trade is $1.
You can set up recurring purchases if you want. The minimum for this is $10. There are three choices for a periodic investing plan:
Once a day
Once a week
Every two weeks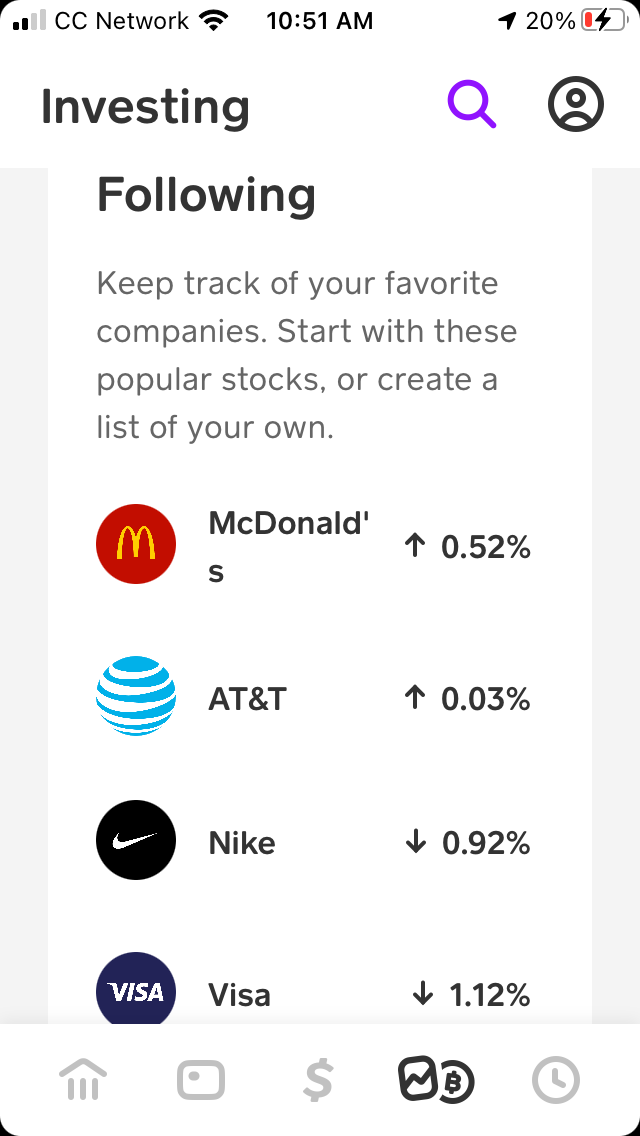 Stocks Analysis and Research
If you don't have a stock in mind, Cash App does provide some limited research tools. To begin your search, you'll want to start on the same investing/Bitcoin section.
Below the streaming list of stocks is a purple button labeled Discover a Stock. Tap on this and you'll find tiles of categories, including:
Energy
Banking & Finance
Health
Food & Drink
Shopping
Tap on a tile and you'll get a list of stocks. There is no way to sort the results because there are no columns of values.
There is a filtering tool, though. For technology, I was able to filter by:
Hardware
Software
Mobile
Internet
Social Media
For any category, there are filters for upcoming earnings, price performance over various time frames, and dividend yield.
A security's profile has links to external news articles. CNBC, Reuters, and MarketWatch are a few providers. A brief company summary is next, and that's about the extent of this broker's analysis tools.
There is no stock screener of any kind on the platform.
Investing in ETFs
If you want to trade ETFs, Cash App does offer a few of them. During my research, I couldn't locate several ETFs on the app. Examples of missing funds include:
SRET Global X SuperDividend® REIT
SIJ ProShares UltraShort Industrials
Funds that I did find include:
VOO Vanguard 500
QQQ Invesco Nasdaq 100
Cash App has a list of the ETFs it offers. To find it, just head over to the section of tiles mentioned earlier. One of them is labeled ETF. There are no sub-categories as with stocks, however. And this makes searching through the funds a little more challenging.
ETF profiles are just as brief and limited as stock profiles. The trade ticket is the same.
Investing in Bitcoin
Square is a modern company, so of course Bitcoin trading is available. Somewhat surprisingly, there are no other coins.
At the top of the investing/Bitcoin section on the app, there's a toggle switch at the top. Here, you can switch between stocks and Bitcoin.
On the Bitcoin side, I found the same rudimentary chart. But this time, price is shown at the top, the lone advantage here. The price updates in real time, but the chart does not.
Like stocks and funds, Bitcoin's profile has news articles from multiple sources. Other than that, there's not much else available. The trade ticket is the same one used for securities.
Cash Management
As a subsidiary of Square, Cash App specializes in money transfer services. With a Cash App account, it's possible to send or receive money in five ways:
Phone number: Just type in the recipient's phone number and dollar amount, and you're all set.
E-mail address: Same story here.
$cashtag: Every Cash App account has an identifier called a $cashtag. It's similar to a Twitter handle. The tag can be edited at any time. Instead of using a recipient's phone number, it's possible to send funds to a recipient's $cashtag.
QR Code: Every Cash App account also has a QR code (found inside the app). Simply scan the code with your phone to send money to the owner of the account connected to the QR code.
ACH/direct deposit: If you want to receive money the old fashioned way, every Cash App account comes with routing and account numbers.
iPhone users can use iMessage to send funds as well.
Before making your first transfer, you have to link an external bank account to your Cash App account. If you want a Visa debit card, Cash App will mail you one.
Pricing
Like Square, Cash App does charge fees in some cases, although many services are free.
A Cash App account has no minimum balance requirement and charges no monthly fees.
For trading, Cash App charges zero commissions on securities trades. Bitcoin trades do come with transactions fees, and these are displayed on an order's preview page.
Standard cash transfers are free, while instant deposits cost 1.5% (with a 25¢ minimum).
Any transaction involving a credit card costs 3%.
Although the Visa debit card is free, Cash App does charge $2 for every ATM withdrawal. This fee is on top of anything the cash machine charges.
However, Cash App will reimburse three ATM operator fees (up to $7 each) per month. The requirement is to receive direct deposits totaling $300 or more in the previous month.
Bottom Line
Cash App has some decent money transfer services and unsophisticated trading tools. It's quite easy to find better values in both categories elsewhere.
Credit: Warrior Trading