A small collection of islands located in the South Pacific, most people associate French Polynesia with leisure and luxury. With a currency pegged to the euro and a growing, stable internet infrastructure, it's never been easier to trade forex from one of the many islands that make up French Polynesia.
Interested in learning more about how to open a brokerage account, place your first forex trade or formulate your own trading strategy? Our comprehensive guide for beginners will make things simple.
Get Started with Forex in French Polynesia
Trading forex begins with opening a brokerage account. Though most international brokers now allow you to do this completely online, you should start by ensuring that you have a stable internet connection. Check to make sure that your connection is private and that you aren't on a public network. Doing this will protect your personal data.
After you stabilize your connection, begin comparing brokers. Many brokers offer forex trading capabilities in French Polynesia, most of which are based outside of the country. Some of the factors you might want to consider when you compare brokers include:
Base currency availability
Supported transfer methods
Supported platforms
Currencies available to trade
Fees and transaction costs
When you find a broker you'd like to work with, open an account online. Most forex brokers require that you submit proof of your identity and residence before you can fully open your account.
Next, deposit trading funds into your brokerage account. International forex brokers typically support a range of transfer methods, including:
Direct bank account transfer
Credit or debit card purchase
Transfer from an electronic wallet
The native currency of French Polynesia is the CFP franc, which is pegged to the euro at a rate of 1 XPF to 0.00838 euro. This means that 1 franc will always be equal to 0.00838 euro, no matter what market conditions are currently like. Because of this, many brokers offering service to investors in French Polynesia also allow you to use euros as your base currency.
It might take a few days for your transfer to appear in your brokerage account. Once your funds arrive, you can place your first trade using your forex broker's platform.
French Polynesia Forex Trading Strategies
The CFP franc is a particularly strong currency thanks to its tie with the euro, one of the world's most important reserve currencies. This means that there are many short-term and long-term trading strategies that you can use to see a profit when trading the franc.
Let's take a look at a sample of the most common strategies and indicators that you can use to trade forex in French Polynesia.
Reversal Candlesticks
A reversal candlestick is a short-term indicator that tells the investor that a currency is likely to change its price direction soon. A reversal candlestick may be bullish or bearish depending on where it's located on a chart. The strength of a reversal candlestick can usually be determined by its tail length — the longer the tail, the stronger the indicator.

Breakout Strategy
The breakout strategy is another popular trading strategy. To use the breakout strategy, start trading when your base currency has moved in a sideways direction and showing little volatility. Establish a resistance and support value for your chart. When a candlestick "breaks out" of this predefined range, it may indicate a buy or sell signal that tells you that the trend will continue.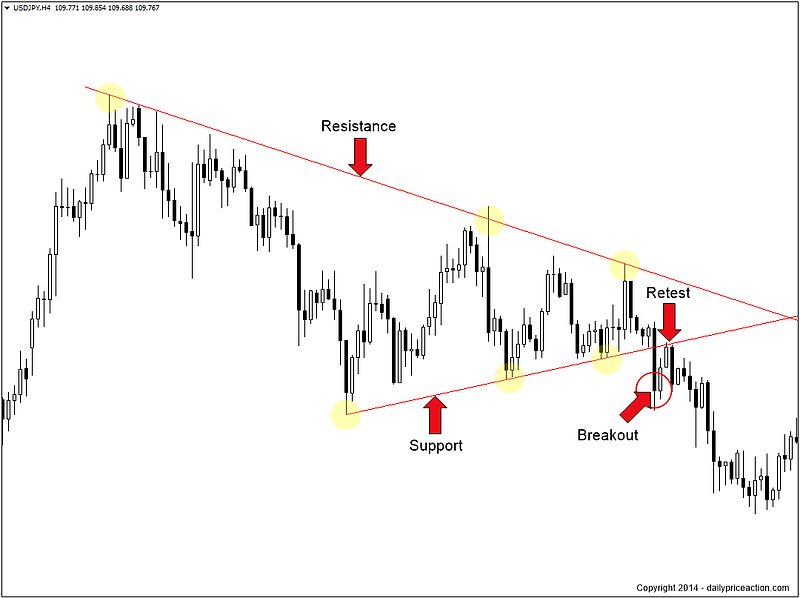 Forex Trading Example in French Polynesia
Is it possible to earn money forex trading?
Yes! Professional forex traders earn money by strategically purchasing and selling currency pairs, exchanging currencies when it's beneficial for their held currency. Let's take a look at an example.
Imagine that you open a brokerage account and fund it with 100,000 F. You believe that the franc will soon decrease in value against the British pound, so you decide to invest your entire lot of francs into the pound. Your broker offers you up to 100:1 leverage, which means that you can potentially place a trade worth up to 10 million francs. However, you choose to use 10:1 leverage.
1 GBP is currently equal to 0.0076 XPF, which means you can convert 1 million francs to 7,600 pounds.. Soon, you see that your analysis was correct — when the value of 1 GBP reaches 0.0072 XPF, you decide to convert your pounds back to francs. This leaves you with about 1,055,555 F. After accounting for the money you used in leverage, you've earned a profit of about 55,555 F on this trade.
Making Money with Forex in French Polynesia
Trading forex is legal in French Polynesia, and there are no current legal limitations to the amount of profit that you can take from your trading or the amount of money you can deposit into an international brokerage account. However,  there are very few controls and license requirements for local brokers.
We recommend working with an international broker overseen by a major regulatory body like the Cyprus Securities and Exchange Commission or the Financial Conduct Authority. These brokers need to meet strict checks that ensure the broker is financially stable, and limitations are put on available leverage. These accounts also typically have negative balance protections, which prevent you from falling into debt when you trade forex.