Between the 61.8% Fibo / 50% mean reversion and the confluence of old support has proven to be a firm resistance. 
Gold is now firmly back into the hands of the bears targeting $1,750.
As per the prior analysis, Gold Price Analysis: Bulls setting up for upside extension to -61.8% Fibo/$1,817/20, the price indeed rallied as according to the analysis, falling short of the target by $1.00 from which conservative bulls cashed in at.
Prior analysis, 1-hour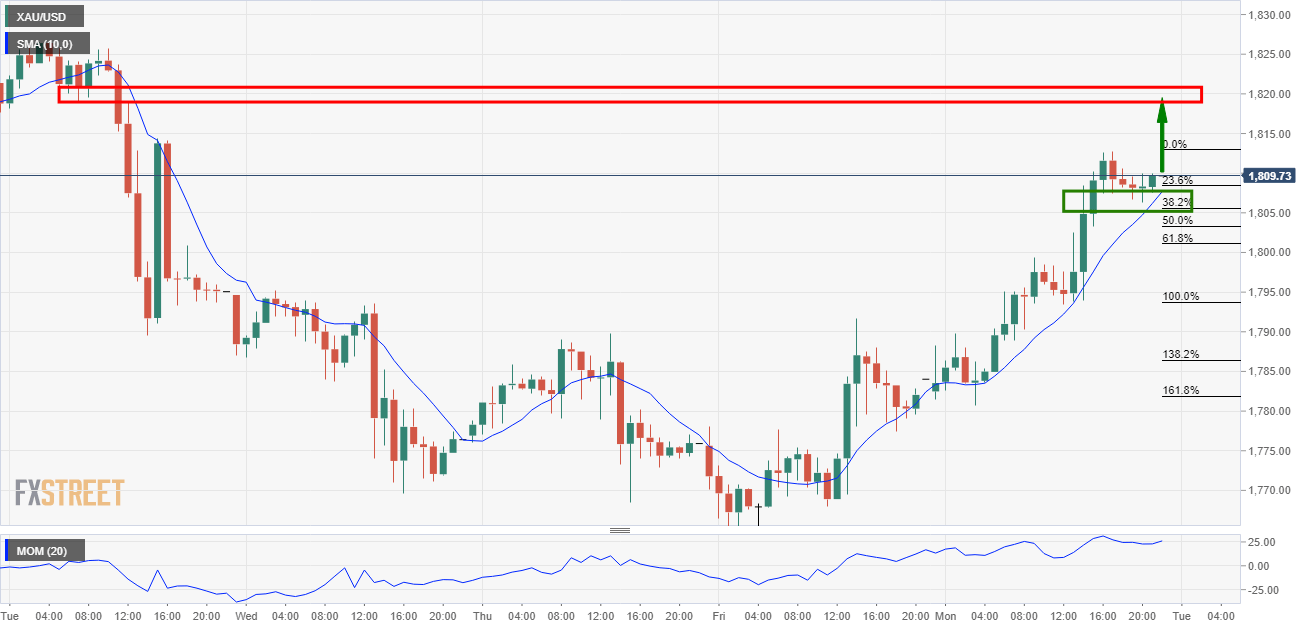 A conservative target,comes as the -61.8% Fibonacci retracement of the current correction's range at $1,817 for a 1:2 R/R.
Live market
Meanwhile, the price has melted to the downside since reaching the $1,816.04 highs.
For those bulls who waited for $1,817 or $1,820, they would have had to accept a breakeven scenario at worst with the stop loss moved to the entry point.
Meanwhile, the price has tested below the $1,800 psychological level in Tuesday's volatility reaching a low of $1,795.77.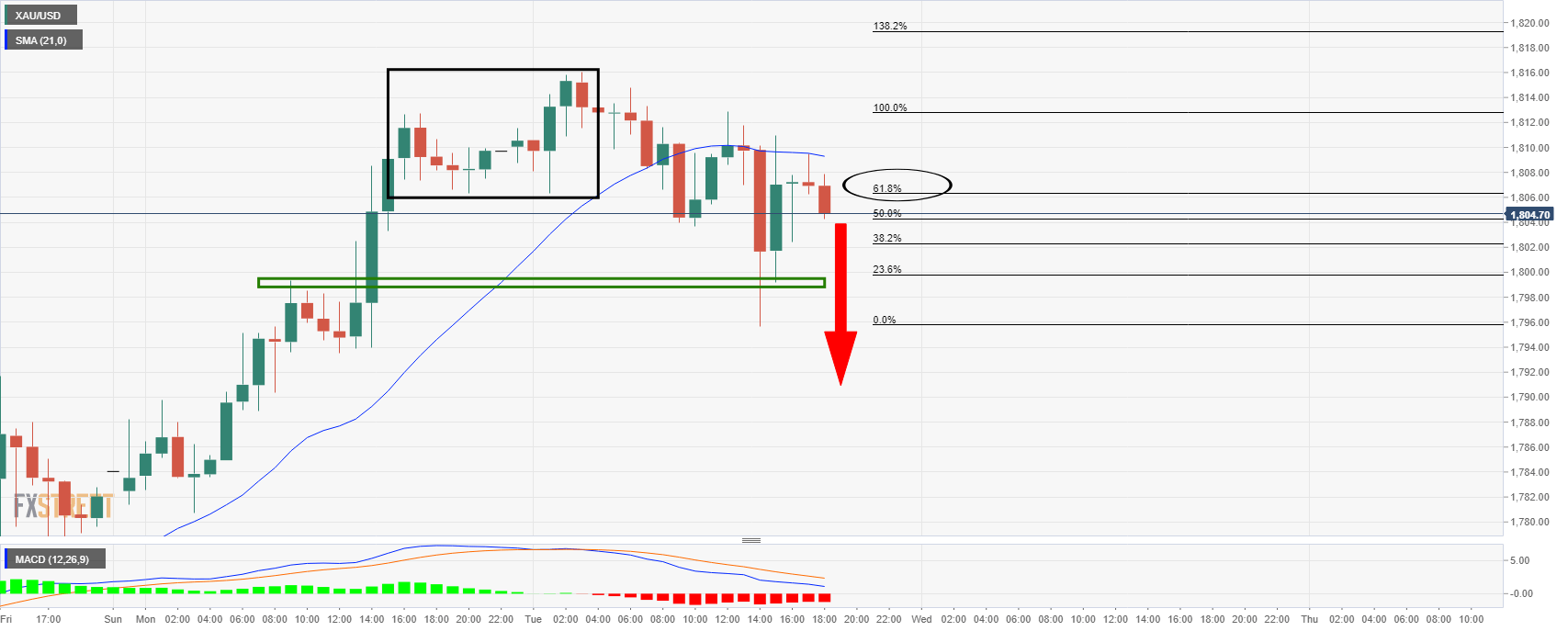 It has since pulled back to find resistance around $1,810 and deeper liquidity around the 61.8% Fibonacci level.
The market at this juncture would not be expected to move deeper into test $1,790.
In doing so, the focus will be on a downside extension towards $1,750 in a continuation of the daily downtrend and bearish late summer 2020 cycle:
Daily chart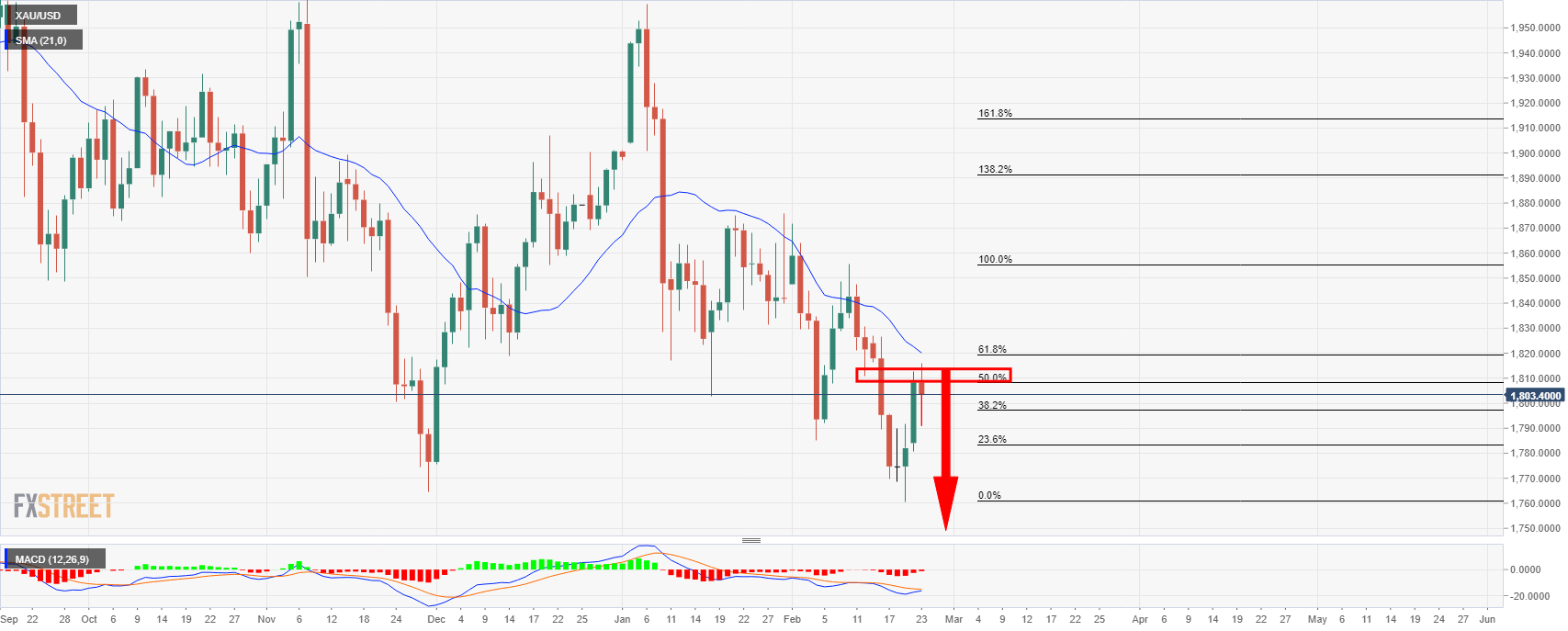 The daily chart shows that the price has been resisted at the structure and a 50% mean reversion of the last bearish impulse which has proven to be a firm resistance.
From a 4-hour perspective, bears can monitor for an optimal entry point from a bearish structure and technical conditions.
Credit: FX Street