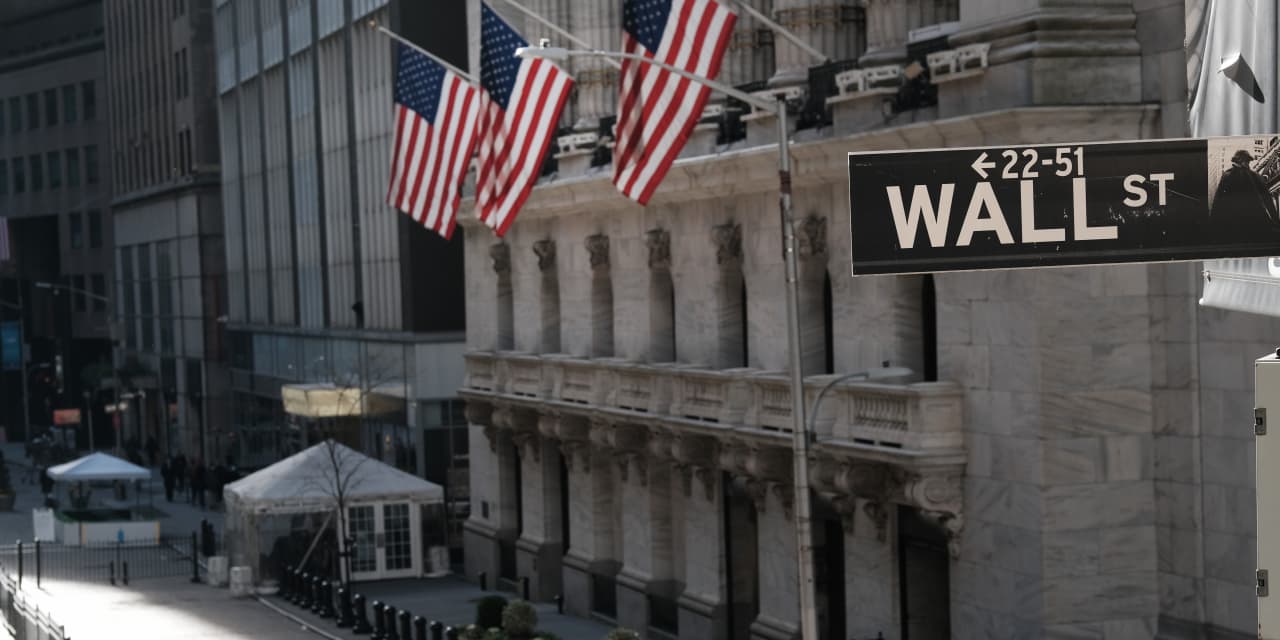 Stocks finished with modest gains on Wednesday, as the blue-chip Dow managed to book another record close in the penultimate trading session of 2020.
What are major benchmarks doing?
The Dow Jones Industrial Average DJIA, +0.24% rose 73.89 points, or 0.2%, to 30,409.56, pushing past its previous closing record of 30403.97 set on Monday.
The S&P 500 SPX, +0.13% was up 5 points, or 0.1%, to end at 3,732.04.
The Nasdaq Composite COMP, +0.15% gained 19.78 points, or 0.2%, to trade near 12,870.19.
Stocks ended slightly lower Tuesday after pushing to all-time intraday highs in early action, a day after the Dow, S&P 500, and Nasdaq Composite closed at records.
Year-to-date the Dow is up 6.56%, the S&P 500 is up 15.52% and the Nasdaq is up 43.44%.
What's driving the market?
Low trading volumes in the last week of the year ahead of the New Year holiday on Friday are making it more difficult than usual to discern whether action is being driven by events or money flows, analysts said.
"To me this just seems like a bit of a consolidation," said Will Geisdorf, senior research analyst with Sarasota, Florida-based Allegiant Private Advisors.  "We'll drift through the holidays with light volume and maybe in the first-second week of January we'll get some catalysts."
"The reflation trade has gone a little too far, too fast," he added. "The early stages of the vaccine roll-out have been underwhelming and people are reconsidering how fast the economy is going to bounce back. I think we're waiting for things to get a little more organized and the vaccine rollout to spread, and people will get back to the reflation trade."
The market's aimless drift was partly blamed on a lack of action by the Senate on bigger direct payments to households, after the Democratic-controlled House on Monday passed legislation that would boost the size of payments from $600 to $2,000 as part of the $900 billion coronavirus financial aid package signed into law by President Donald Trump on Sunday.
Democrats moved to back the call for bigger payments by President Donald Trump, but the Senate Majority Leader Mitch McConnell, R-Ky., on Wednesday again said he would not allow a standalone vote on the proposal.
U.S. Treasury Secretary Steve Mnuchin said late Tuesday that direct deposit payments of $600 to many lower income Americans have begun and paper checks will start being mailed Wednesday.
Meanwhile, the U.S. counted at least 200,902 new COVID-19 cases on Tuesday, and at least 3,626 people died, according to a New York Times tracker. The new, more contagious COVID-19 variant recently discovered in the U.K. was detected in the U.S. for the first time, in Colorado, on Tuesday.
Also on the COVID front, AstraZeneca PLC AZN, -0.82% AZN, +0.56% on Wednesday said the coronavirus vaccine it has developed with the University of Oxford has been approved by the U.K. government.
With more and more vaccines set for distribution next year, investors were looking through the pandemic's resurgence in December.
"The path of least resistance is higher. Earnings estimates continue to improve, and every day we get closer to herd immunity, the likelier we'll return to peak earnings," said Michael Reynolds, investment strategy officer at Glenmede, in an interview.
U.S economic data was mixed Wednesday. The U.S. trade deficit in goods climbed to $84.8 billion in November from $80.4 billion the month before, the Census Bureau said. Wholesale inventories ticked down 0.1% in November, rather than increasing as forecast, a good sign for economic demand.
The Chicago-area purchasing managers index rose to 59.5, higher than expected, in December, but pending home sales slid 2.6% in November, the National Association of Realtors said.
Which companies are in focus?
Tesla Inc. TSLA, +4.32% shares ended 4.3% higher after a Wedbush analyst suggested the company could deliver more than 500,000 cars in 2020.
Spicemaker McCormick & Co. MKC, +0.08%  said that it has purchased Fona International, a flavor company focused on health and nutrition, its second acquisition in weeks. McCormick finished up 0.1%.
Shares of AstraZeneca AZN, +0.56% rose 0.6% after the UK approved its coronavirus vaccine.
How are other markets trading?
In Asia, the Shanghai Composite SHCOMP, +1.05% gained 1.1%, while Hong Kong's Hang Seng Index jumped 2.2% and Japan's Nikkei 225 Index closed 0.5% lower.
London's FTSE 100 UKX, -0.71% finished 0.7% lower. The pan-European Stoxx 600 Europe index SXXP, -0.34%  slipped 0.3%.
The yield on the 10-year Treasury note TMUBMUSD10Y, 0.926%   was down 0.8 basis point to 0.926%. Yields and debt prices move in opposite directions.
The U.S. benchmark West Texas Intermediate crude for February delivery CLG21, +0.58%  gained 40 cents, or 0.8%, to settle at $48.40 a barrel, booking back-to-back increases.
Gold futures GC00, +0.74%  edged higher, up 0.6% to settle at $1,893.40 an ounce as the dollar slipped.
The U.S. dollar DXY, -0.40% was 0.3% lower compared to a basket of trading partners.
Credit: MarketWatch