NYSE:NIO fell another 5.48% on Thursday as the red week continues for the Chinese automaker.
Chinese electric vehicle rival XPeng gets analyst praise and upgraded price target.
Uncertainty surrounding the future of Chinese stocks has also scared some investors off of the stock.
NIO has been extending its falls on Friday, shedding another 4%.
Update: Nio Inc (NYSE: NIO) has kicked off Friday's trading session with another drop, this time of around 4% to around $43.50. At current prices, shares of the Chinese electric-vehicle maker are down around 20% since Friday's close at $54. The immediate trigger for Friday's fall comes from taking a look at rival companies, such as XPeng and Li Auto. There is only so much energy that traders looking for the next Tesla have room for. Once one share rises, traders tend to pile onto it in a FOMO effect.
Nio is also struggling amid Washington's bipartisan consensus against Beijing, with the last blow coming from a bill pushing the delisting of China-based firms that do not meet accounting standards. Outgoing President Donald Trump is moving toward slapping more sanctions on the Chinese Communist Party (CCP) members while President-elect Joe Biden is in no rush to remove sanctions against the world's second-largest economy. Nevertheless, as described below, there are three reasons why bargain-seekers may jump on NYSE: NIO, and these are related to the company's robust performance.
NYSE:NIO continued its downward week on Thursday as all of the negative momentum continued to pile onto the Chinese electric vehicle maker. Shares fell a further 5.48% during Thursday's trading session bringing losses for the week up to nearly 15% with one more day of trading left to go. Nio investors have little to complain about after the stock has gained over 1900% during the past 52-weeks and has spent most of 2020 on the upward trajectory. One rough week for the stock after a tremendous run-up should not be enough to dissuade investors from jumping ship so soon.
Nio rival XPeng (NYSE:XPEV) received a favourable rise in price target from a noted analyst who has been bearish on Nio in the past. UBS analyst Paul Gong raised the price target on XPeng from $25 to $59 and explained that he believes XPeng is at the forefront for autonomous driving in China. Nio investors may have taken Gong's optimism in XPeng as a slight to Nio even though both companies finished the day in the red.
NIO stock news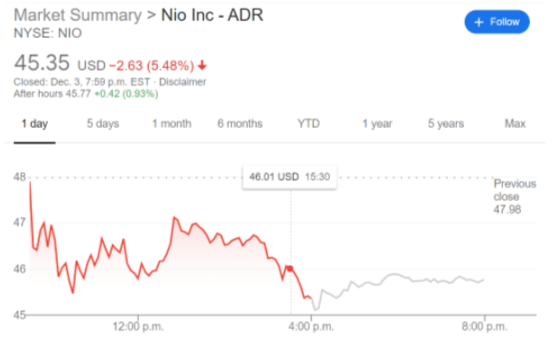 On the same day that industry leader Tesla (NASDAQ:TSLA) received another bullish Wall Street upgrade, Nio and other Chinese electric vehicle stocks continued to struggle. With the dark cloud of the threat of future delisting from American exchanges hanging over Nio's head, investors have been hesitant to buy this recent dip in its stock price. With Nio Day and a new vehicle launch scheduled for January as well as a planned expansion into continental Europe later in 2021, Nio's outlook in the short-term remains bright.
NIO Stock Price and Forecast: Three reasons to rise after Chinese stock delisting-related fall
NYSE:NIO has a roller-coaster trading session as the stock gains 5.45% then drops after hours.
The US House of Representatives votes to have all China-based stocks delisted by 2023.
The final decision still falls on incoming Treasury Secretary Janet Yellen.
Update: Nio (NYSE: NIO) has is trending lower on Thursday, changing hands at $45.78 (-4.55%) at the time of writing. Fears that the US delists its stock alongside other Chinese ones is looming large over the Shanghai-based carmaker. Nevertheless, there are three reasons to be bullish on its shares.
1) Delisting part of political posturing: While the Presidential Elections are over, the fate of the Senate depends on two runoff races in Georgia on January 5. Both Democrats and Republicans want to sound tough on China. That also explains President-elect Joe Biden's cautious approach on removing tariffs against Beijing. As described below, the decision depends on incoming Treasury Secretary Janet Yellen, which may opt to refrain from such action.
2) Nio is delivering: The company reported a massive increase of 109% yearly in November's car deliveries, showing investors its real-world value beyond speculation.
3) Issues facing rivals: Elon Musk's Tesla (NASDAQ: TSLA) has hit the stratosphere, partially due to its S&P 500 inclusion. Tesla may be due for a sharp downward correction. Nikola, another EV-maker, was snubbed by General Motors, which opted for reduced collaboration with the Utah-based company.
NYSE:NIO has been on a tumultuous ride lately as investors brace themselves for one impactful event after another. First, it was the fraudulent accusations against rival electric vehicle maker Kandi (NASDAQ:KNDI) that soured investors on China-based stocks. Then, record monthly sales for Nio and analyst upgrades boosted the stock back up on Wednesday. After hours, was a different story though, as the US Government voted to potentially delist Chinese companies in the next three years. Nio gained 5.45% during trading hours but has already slid by 3.6% after hours as more volatility seems in store.
The US House of Representatives officially voted in favor of outgoing President Donald Trump who will sign the Holding Foreign Companies Accountable Act before he leaves office. Under the act, any Chinese company listed on an American exchange would be delisted in three years if their auditors do not abide with the Public Company Accounting Oversight Board. Beijing has fired back making it illegal for auditors based in China to be controlled by international regulators so the two countries once again find themselves in a political standoff.
Ultimately the decision will be in the hands of the Treasury and incoming Treasury Secretary Janet Yellen. President-elect Joe Biden is seen by most to have a more positive relationship with China than President Trump so it will be interesting to see what happens when the new administration takes control. Investors should expect more short-term volatility in the near future for NIO, even though it is relatively safe for the near future. 
NIO Stock Price and Forecast: Extends collapse as Chinese EV makers drop, NKLA buy opportunity eyed
NYSE:NIO drops by 10.23% as the electric vehicle industry continues to get battered.
NIO receives a bullish outlook from Goldman Sachs, despite the two-day correction.
NIO sets a new monthly record for vehicle deliveries in November.
Nio Inc – ADR (NYSE: NIO) has kicked off Wednesday's trading with a substantial decline of around 9% to just above $41 at the time of writing. While shares of the Shanghai-based electric vehicle maker is still trading high in the past month, it has completed a decline of over $15 or nearly 30% from the highs since mid-November. Nevertheless, NIo equity has been having a spectacular year, up nearly 20-fold from the 52-week low of $2.11.
The EV sector has been in focus for various reasons, one being the upcoming inclusion of Elon Musk's Tesla (NASDAQ: TSLA) in the S&P 500 Index, an event due on December 21. Shares of the celebrity-dominated automaker seem to have sucked attention away from other contenders, yet the sector continues growing, as Nio's latest car delivery numbers have shown. Will NIO's current decline provide a buying opportunity? At least one other EV firm has been proving a boon after its recent slide.
The news continues to be positive for NYSE:NIO, but the association as a Chinese electric vehicle maker is enough to scare investors off. On Tuesday, the stock continued its slide as NIO lost a further 10.23% to close the trading session at $45.36 which represents a 20% discount over the last week. NIO's rivals XPeng (NYSE:XPEV) and Li Auto (NASDAQ:LI) also continued to tumble, based off of the fraudulent accusations against another Chinese electric vehicle maker Kandi (NASDAQ:KNDI). Once again, investor distrust of Chinese companies and their reporting structure is rearing its ugly head.
Despite its stock performance this week, it's not all bad news for NIO. On Tuesday, the stock received a long-awaited bullish upgrade from Goldman Sachs analysts as the firm changed their stance from sell to hold. The upgrade represents a mea culpa by Goldman Sachs as it stated the new Battery Swap program as one of the things that sets Nio apart from its competition. NIO also announced that its November vehicle deliveries set another monthly record as the latest month proved to be a 109% increase year-over-year from 2019.
The current correction in NIO's stock price could represent a nice buying opportunity for investors that remain bullish on NIO's future outlook. The outcome of the House of Representative vote that may decide the future for Chinese companies listed on American markets could be another issue weighing on investor's minds. Many investors could just be satisfied with the profits they have made so far this year from NIO and have chosen to move on to more stable investments.
NIO tumbles amidst more Chinese fraud allegations
NYSE:NIO plummets by 6.43% as Chinese and electric vehicle companies took a beating.
Chinese electric vehicle company Kandi is accused of fraudulent sales numbers.
The House of Representatives is set to vote on the future of Chinese companies on American exchanges.
NYSE: NIO has kicked off Tuesday's trading with a downfall of around 6.5% to around $47.14 at the time of writing. The Chinese electric vehicle-maker is not the only stock in the sector to suffer, with Nikola (NASDAQ: NKLA) tumbling down by 16% while Workhorse (NASDAQ: WKHS) is weathering the storm with a drop of only 2%. Will bargain-seekers jump on any of these stocks? Not all EV stocks are made equal and some may provide bigger opportunities than others.
NYSE:NIO was among several Chinese stocks that were pummeled on Monday as reports of fraudulent activity by a rival company led to its worst sell-off in months.
The company in question at the center of the fraudulent accusations is Kandi (NASDAQ:KNDI), an industry rival to Nio, and one of several Chinese electric vehicle makers that have been on fire this year. A noted short-seller in the industry reported on Monday that Kandi has been embellishing its sales reports to lure in money from American investors. Kandi's stock went into free-fall after the report and lost nearly 30% of its value, which of course, is exactly what a short-seller would want. Whether these claims are true or not, it seems to have hit a little too close to home for investors after similar cases with Chinese companies like Luckin Coffee. 
The future of Chinese companies being able to list on American exchanges is up in the air as the House of Representatives is currently voting on a bill that would potentially force these companies to delist in the next three years. The fraud allegations against Kandi is just another bump on the long road of mistrust between China and the United States, and while Nio investors should be safe, the reality is that these tensions very well could be coming to a head for the American government.
Credit: FX Street