A new commodity 'supercycle' has started, according to Marko Kolanovic, the highly regarded quantitative analyst at JPMorgan.
The commodity upswing, and oil CL.1, +1.88% move in particular, has started, and will be driven by the post-pandemic recovery, ultraloose monetary and fiscal policies, a weak dollar DXY, -0.14%, stronger inflation, as well as the impact of environmental policies on demand and supply.
"We believe that the tide on yields and inflation is turning, which will pose a major risk to multiasset portfolios," he added.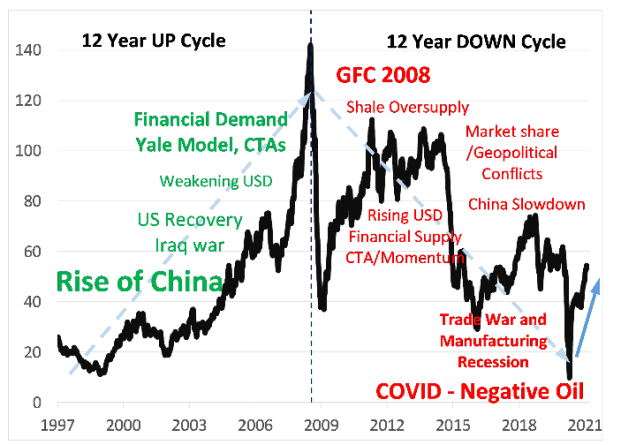 This will be the fifth so-called supercycle of the last 100 years, following the one that began in 1996 and peaked in 2008, he said.
Like the last one, financial flows may exacerbate the moves in commodities, he added.
Brent crude-oil futures BRN00, +1.35% have climbed for nine consecutive sessions, the longest winning run since Jan. 10, 2019, and have soared 218% from the lows of April 2020. Copper futures HG00, +0.34% on Wednesday settled at their highest level since Oct. 5, 2012.
Credit: MarketWatch