When the average investor thinks about the software Wall Street uses, their mind usually turns to the Bloomberg Terminal.
This legendary piece of software was released in the 1980s and is the brainchild of former New York City mayor Michael Bloomberg. The software is as ubiquitous on Wall Street trading desks today as it was back then.
You probably know it from its famous black and orange color scheme and dated fonts, which gives it a distinctively old-school feel.
Note that I don't have access to a Terminal myself; I'm just aggregating information from various primary and secondary sources about the product.
What is the Bloomberg Terminal?
Despite the name, the Bloomberg Terminal isn't its own computer or piece of hardware.
Nowadays, it's just a piece of Windows software. But, back in the 1980s, when Michael Bloomberg created the product, he sold them as individual computer systems called terminals, and the name stuck since then.
It still sounds pretty cool, like, "yeah, let me check that quote on the terminal," even though you're just opening up software on your Windows computer just as a retail trader would load up thinkorswim.
The Bloomberg Terminal is the most in-depth research and trading platform for institutional investors. The amount of data available to subscribers is so vast that even people who've been using it for over a decade still have barely scratched the surface.
While there's plenty of proprietary data within the Bloomberg Terminal, the vast majority of it could be purchased separately from other vendors. The real value is the convenience of all of the data being in the right place and its ease of access.
For example, let's say you're an equity analyst researching Apple (AAPL). You can log onto SEC.gov and find the vast majority of the same information and start building a valuation model.
Still, the Terminal has all of Apple's recent financial statements compiled into one screen for easy viewing and allows you to export it into an Excel sheet in one click.
An analyst is probably interested in who Apple's biggest suppliers and customers are. A feature like SPLC comes in, where the company's largest suppliers and customers are listed in a map format. See the below image for example.
Source: Bloomberg.com 
Now, this data could be found elsewhere, in SEC filings and whatnot, but a map like this gives you the information you need in seconds.
There are plenty of cool features like the supply chain map too. You could definitely spend hours just playing around and seeing what type of exciting data you could uncover on this platform.
Another example is the BMAP feature, which allows you to track shipments of commodities, forest fires that could affect agricultural yields, and that sort of thing.
An energy trader might be interested in monitoring shipments of energy assets and overlay them with forecasted storms to get an idea of supply chain disruptions.
Here's an example of what this feature looks like: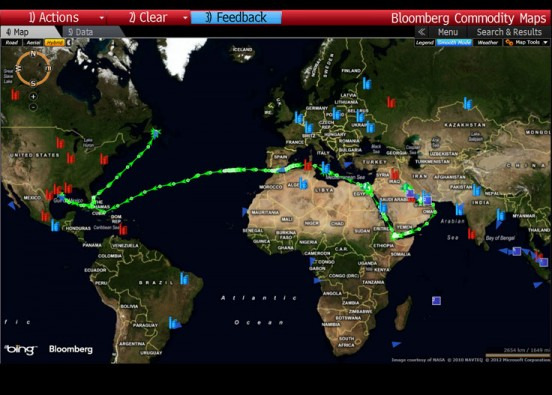 Source: Bloomberg.co.kr 
There's countless neat features like this on the Terminal too. These are just two popular examples. It does the basics quite well too, like displaying quotes and charts.
The Bloomberg Terminal Chat: Enterprise IB Chat
One of the most valuable features for institutions is the Terminal's Enterprise IB Chat.
This is essentially a Terminal-wide chat function that allows traders to chat with brokers, portfolio managers to talk with each other, or simply for intra-firm communication, perhaps to run something by compliance.
This IB feature is credited for creating stickiness among Bloomberg's clients. Because so many OTC trades occur through the chat, it's become invaluable for doing business. And because trades are made through it, lots of intra-firm communication also goes on there too.
As a result, even if a compelling competitor to Bloomberg arose, it'd be hard to switch because you've established so many relationships on this platform.
Source: nextgeneric on YouTube
A portfolio manager analyzing a stock might look at the funds holding large positions and send them chats to talk shop and compare notes on the position. It's as easy as finding the fund manager and sending him a chat, actually.
Because you can basically message anyone, lots of people use the chat for networking purposes. Perhaps sell-side analysts want to move into buy-side portfolio management, so they cold-chat hedge fund managers trying to get a job.
You can imagine how this could have very mixed results. Interrupting a portfolio manager while he's trading or deep in research just to spam him about giving you a job could severely backfire.
Up until recently, to use the IB chat, you needed a full Terminal subscription.
So a competitor called Symphony came in, which is kind of like Slack for financial institutions. The thinking went that this provides an alternative to the chat function, making it unnecessary for many employees to have Terminal subscriptions if they were only using it for communication.
Symphony also benefited from some significant tailwinds.
Right around the time of their launch, it came to light that Bloomberg was snooping on their customers to give their journalists an edge in reporting breaking stories.
As a result, some of Bloomberg's angry clients like Goldman Sachs and BlackRock funded Symphony.
Bloomberg responded in 2017 by allowing firms with Terminal subscriptions to buy separate chat subscriptions for employees who don't need full Terminal access.
How Much Does The Bloomberg Terminal Cost?
The Bloomberg Terminal is expensive. Bloomberg keeps their pricing close to their chest, but most reports say that it'll run you about $25,000 a year per Terminal.
A 2013 article from Quartz gave some insight into the pricing model of Bloomberg.
Because the article is out of date, you can assume the price has probably increased. I've heard more recent reports stating that a two-year contract charges around $2,500 a month for the average subscriber.
So why do these financial institutions pay so much? In addition to the invaluable chat function, Bloomberg built workflows for each profession. So if you're a private equity guy or an oil trader, Bloomberg has a custom workflow built for you.
This allows large institutions that employ people with a hundred different job titles to use one platform.
Bloomberg Terminal Alternatives
Right now, there's no serious competitor that could kick Bloomberg off their throne. However, there are some platforms with similar offerings that can compete with Bloomberg in certain areas.
Refinitiv Eikon
Eikon is the most serious competitor to the Bloomberg Terminal and offers much of the same information at less than half the price.
Eikon was originally a Thomson Reuters product under their financial & risk arm, but they changed the name to Refinitiv and sold it to the London Stock Exchange last month. So now, the LSE owns Eikon, as well as several other platforms offered by Refinitiv.
Most Eikon users' sentiment is that it has tons of great data, but it still can't hold a candle to the Bloomberg Terminal.
Source: OptionsBro
Koyfin
Koyfin is a newer platform that aims to be a mini-Bloomberg Terminal for investors and traders who don't need most of the high-end data, but still want an excellent market dashboard that allows for quick macro and financial analysis.
Currently, the platform is free but requires paid subscriptions for certain types of data.
Here's an example of Koyfin's factor dashboard, which is pretty awesome. You can view the relative performance of factors like a basket of stocks with high share buybacks, spinoffs, the stocks that hedge funds are crowded in, value, growth, etc.
These types of analytics are invaluable for position traders, who don't try to take 2-3 day swings out of the market but instead try to rotate in and out of the strongest sectors and factors.
The relative performance of factors can also give you insights into the psychology of market participants. Usually, momentum leads when the market is most ebullient and value lags, that sort of thing.
The Bloomberg Terminal In Action
There's a few excellent videos on YouTube that give you a quick demo of how the Bloomberg Terminal works. Here's a couple of them.
Macro-Ops: How Does the Bloomberg Terminal Work?:
[embedded content]
Nextgeneric: Bloomberg Terminal Introduction (video series):
[embedded content]
Bottom Line
To non-institutional traders and investors, the allure of the Bloomberg Terminal is strong. It looks so fun to play around and observe all of the cool data they have available.
You actually might be in luck, because some of your local libraries and universities might have a Terminal that they allow guests to use.
The question is, is a Terminal worth it?
The answer is, as always, it depends. Seeing as you're going to be shelling out $25,000 a year for the Terminal, you better be making several multiples of that from trading.
The Terminal should also be at least paying for itself in the form of making your process better or easier or just giving you a few good trading ideas per year.
The Terminal has become a bit of a status symbol. Many of us might see our friends in investment banking upload an Instagram or Snapchat photo of their Patek Philippe watch with their Terminal conveniently displayed in the backdrop.
That's cool and all, but remember that their employer is paying for their subscription. Don't get caught comparing your comparatively "cheap" trading platform to theirs. The important thing is to have a research or execution system that gets the job done for your specific trading style.
Credit: Warrior Trading